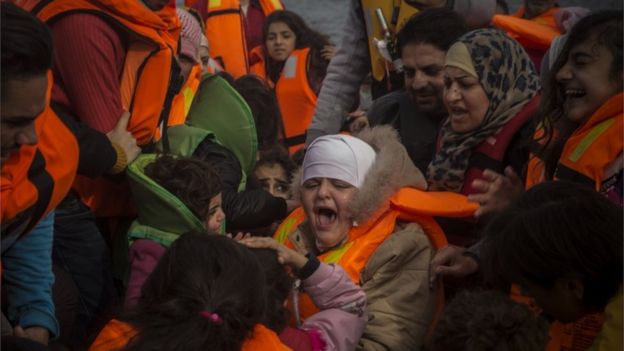 Migrant crisis: 'EU cannot take any more refugees'
[[["...
European countries cannot accept any more refugees, the French prime minister has been quoted as saying.
Manuel Valls said stricter control of the EU's external borders would determine the bloc's fate, in comments published by
the Sueddeutsche Zeitung
.
Europe's border controls have come under renewed scrutiny since the attacks in Paris on 13 November.
European Commission chief Jean-Claude Juncker has said that the Schengen agreement is "partly comatose".
Several EU countries have imposed border controls in recent week - despite the Schengen system of passport-free movement - amid the arrival of hundreds of thousands of migrants, many of whom are fleeing Syria and Iraq.
Some countries imposed new restrictions after a forged Syrian passport was found next to the body of one of the perpetrators involved in the Islamic State attacks on the French capital.
..."]]]
REFUGEES really a problem...!!! They are overloading the system...!!!

http://www.bbc.com/news/world-europe-34904931


...we wish that the destructive CATHOLICS and their JESUS would build us all PLANET EARTH number 2 to have an extra PLANET to over-populate...!

...we wish refugees would use "CONTRACEPTIVES" please...!

.
.
.